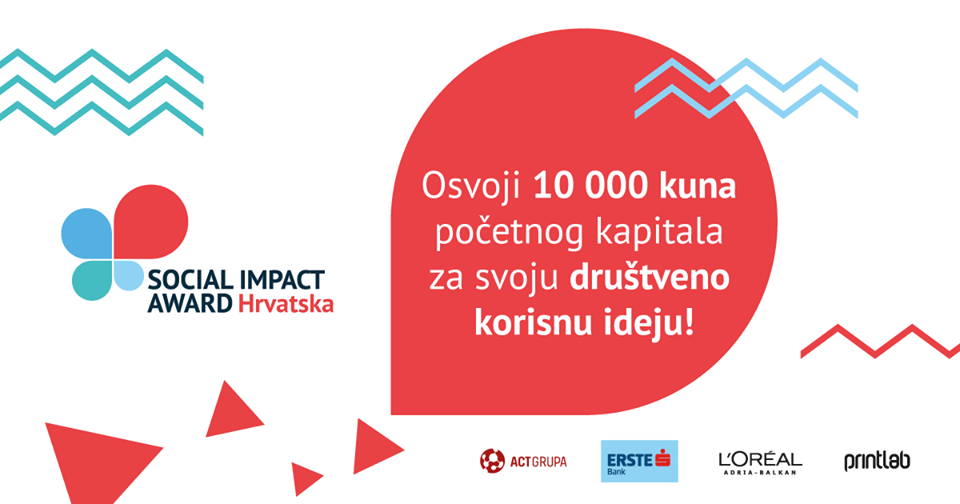 Rok za prijavu je produžili smo do 13. svibnja! Ne propusti priliku za umrežavanje, početni kapital i profesionalno mentorstvo tijekom ljeta!
Pobjednici austrijskog SIA natjecanja u 2016. su Refugees Work Refugeeswork.at je platforma kojoj je cilj pomoći imigrantima u ostvarenju jednakih prava i mogućnosti uključivanja na tržište rada. Time se žele iskoristiti znanja i potencijali imigranata i razbiti predrasude o negativnim stereotipovima. Osnivači Refugees Work su nedavno proglašen kao jedan od "brightest young entrepreneurs, innovators, and game changers" mlađih od 30 godina u Europi!
Sada možete i vidjeti kako Social Impact Award napreduje diljem cijelog svijeta. Pratite naše uspjehe i avanture kroz izviješće za 2016. godinu Download Link: SIA Report 2016
From Oct 23-26 all winners of the Social Impact Award 2016 gathered in Vienna to share ideas, connect with other young social entrepreneurs from 10 European countries and bring their impact ventures to the next level! What a week!
Sviđa ti se Social Impact Award i želiš pridonijeti programu? Mi se veselimo svakoj vrsti pomoći. Ako želite ponuditi svoje stručno znanje, vrijeme, Mrežu kontakata, financijsku pripomoć ili drugo ima mjesta baš za vas. Volunteering Imaš vremena i želiš se angažirati? Uvijek nam dobro dođe još jedan pomoćnik, pogotovo na našim eventima! Posebnim vještinama I interesima se uvijek radujemo- možda znate dobro pisati, smisao za grafički dizajn, vještine programiranja […]
U Impact Hub-u, u četvrtak, 28. svibnja dodijeljene su nagrade najboljim projektima koje su osmislili mladi s ciljem unaprjeđenja i razvoja zajednice. Impact Hub je svoja vrata u Hrvatskoj otvorio 2013. godine kako bi stvorio specifičnu platformu za mlade ljude koji žele razvijati svoje poduzetničke potencijale, upoznati kreativne ljude s kojima mogu surađivati te u konačnici realizirati svoje poduzetničke ideje. Od samih početaka ideja osnivača Impact Hub-a je bila da […]
Zanimljivi ljudi, nove ideje, korisne informacije, dobra atmosfera, pozitivna vibra – sastojci su sljedećeg događaja koji organiziramo u sklopu ovogodišnjeg izdanja najvećeg europskog natjecanja u društvenom poduzetništu za studente! Upoznaj žiri događaj je na kojem svi zainteresirani mogu u opuštenoj atmosferi, samo 6 dana prije roka predaje prijava, porazgovarati sa članovima žirija, čuti vrijedne povratne informacije i umrežiti se. Predstavljamo ti njih 7 koji će među finalistima birati pobjednike i […]
Započelo je najveće europsko natjecanje koje potiče društveno poduzetništvo za studentice i studente.  Na otvorenju se prisutnim studentima prezentirao ovaj vrijedan projekt, koji se održava drugu godinu u Hrvatskoj. Suosnivačica Impact Huba Zagreb, Ana Raguž, objasnila je kako je zapravo krenulo natjecanje Social Impact Award te kako od svog početka 2009.g. u Austriji, dokazuje uspješnost činjenicom da je 60% prijavljenih projekata do sada implementirano, a 35% ostvaruje prihode te da […]
Pridružite nam se na otvorenju ovogodišnjeg izdanja studentskog natjecanja čiji je cilj potaknuti mlade da se bave rješavanjem problema u društvu i okolini kroz poduzetničko razmišljanje. Poziva sve zainteresirane studente da se pridruže zanimljivom programu, na kojem će imati prilike saznati više detalja o natjecanju, čuti inspirativne priče poduzetnih mladih osoba i studenata te porazgovarati sa stručnjacima iz svijeta društvenog poduzetništva. Dobrodošli su svi zainteresirani za temu društvenog poduzetništva, bez obzira […]
Last week 26 student teams from across Europe met in Vienna to collaborate and brainstorm to develop visions for their social enterprises. The Social Impact Award winners are student social entrepreneurs from 8 European countries and are dedicating their summer vacation to new solutions to societal problems. . In 2 busy days, the students were grilled on their projects, received constructive feedback, inputs on media tools, and had fun imagining […]
Almost there
You need to register in order to submit your bulletin & vote.
We care about your privacy.
Read Privacy Policy .
× close