Sa zadovoljstvom objavljujemo finaliste ovogodišnjeg Social Impact Award-a Hrvatska!
Odabrani timovi ulaze u inkubaciju gdje će uz predanu pomoć naših mentora moći dalje razvijati svoje ideje. Ovogodišnjih osam zanimljivih društvenopoduzetničkih ideja su: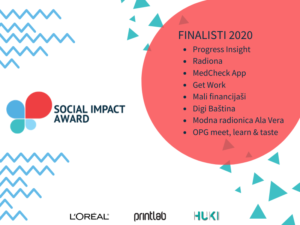 Velike zahvale idu našem predanom žiriju koji nije imao nimalo lak zadatak, našim partnerima L'Oreal Adria d.o.o.i  Printlab-u te naravno ERSTE Foundation, Wirtschaftsuniversität Wien i Impact Hub Vienna.
Nakon inkubacije naših osam finalista ponovno će se naći pred žirijem koji će tada izabrati tri najbolje ideje koje će osvojiti novčanu nagradu, besplatno sudjelovanje na međunarodnoj konferenciji SIA-e i mentorsku podršku.
Almost there
You need to register in order to submit your bulletin & vote.
We care about your privacy.
Read Privacy Policy .
× close